UNVEILED
A ONE WOMAN SHOW BY ROHINA MALIK
Racism.  Hate crimes. Love. Islam. Culture. Language. Life.
Five Muslim women in a post-9/11 world serve tea and uncover what lies beneath the veil
in this critically acclaimed one-woman show.
Presented as part of "Artivism@Wake" organized by Professors Jieun Lee and Kimberly Wortmann
Join acclaimed playwright and performer Rohina Malik in her one woman play UNVEILED on Saturday October 19 at 5:00pm at Ring Theatre (Scale Fine Arts Building). The performance discloses stories of racism, hate crimes, love, Islam, culture, language and life through five Muslim women's voices in a post-9/11 world. The event is sponsored by IPLACe, Humanities Institute, Department for the Study of Religion, Department of Women's, Gender, and Sexuality Studies. The event is free, followed by a panel discussion. This is part of Artivism@Wake organized by Dr. Kimberly Wortmann in Religion and Dr. Jieun Lee in WGSS. 
Everyone is welcome! See you at the theater! 
SATURDAY OCTOBER 19, 2019 at 5pm in THE RING THEATRE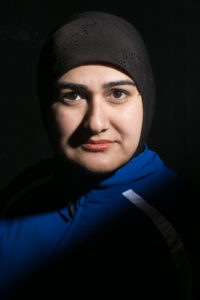 Praise for UNVEILED
"Rohina Malik, the hugely talented writer-actress at the center of the Victory Gardens solo show "Unveiled," is a remarkable new theatrical voice in Chicago. In her rich, upbeat and very enjoyable 70-minute collection of five character studies of Muslim women in modern-day America, Malik gives voice to characters from whom we hear far too little in the theater."
— Chris Jones, Chicago Tribune
A "terrific show… intellectually engrossing work of theater"
— Nina Metz, Chicago Tribune
"Unveiled offers a provocative, insightful and uplifting theater experience."
— Tom Witom, Pioneer Press
"Powerful solo show… five riveting tales of Muslim women"
— Jack Helbig, Chicago Reader
"A compelling 70-minute piece rich with illuminating surprises, drawing the audience into worlds that are both unique and truly universal. It is terrifically entertaining.
— Catey Sullivan, Chicago Examiner
"Rohina's little masterpiece will further open our eyes."
— Alan Bresloff, Steadstyle Chicago
"The stories are important, to be sure, but the cumulative effect is weighty."
–Web Behrens, Chicago Free Press
"She creates five characters on stage…..I shed a tear or two….Works like this do their bit to bring about peace and harmony and counter hate.  I wish this could visit every school, every church, every mosque, every temple in the country."
— Moira de Swardt
"One of the most awaited performances of the 2016 National Arts Festival was Unveiled, written by internationally-acclaimed playwright and actress Rohina Malik.​… Unveiled was written in response to the 9/11 attacks in America and is one of the bravest and uplifting experiences I have ever had."
— Khinali Bagwandeen
"Unveiled is a provocative piece of theatre, rich with enlightening surprises that draw the audience into a unique but yet universal world."
–Carol Kagezi